The Parties

<!C-img src="h-information-parties.gif" alt="The Parties">



WARNING! This page was mutilated by Netscape Composer.


---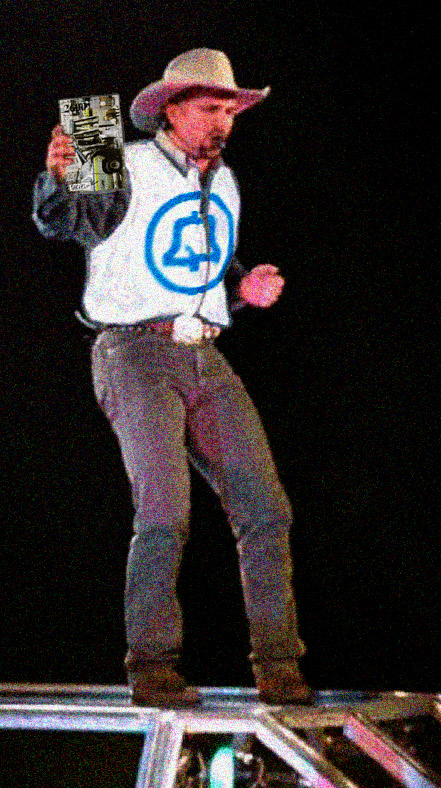 Thursday Night:
Garth Brooks
Garth graciously agreed to be the opening act for Beyond HOPE.
Way to go, Garth!
PHOTOGRAPHS COURTESY RYAN
---
Friday Night:
The Grand Opening Party
2600 Magazine and the Beyond HOPE planners, along with notorious hacker/DJ Thee Joker, are throwing an awesome party for attendees. It is absolutely free, and taking place at one of New York's chillest clubs.
WHO: 2600 Magazine and the Beyond HOPE crew.
WHAT: A party in the East Village. 18 to enter, 21 to drink. NO COVER CHARGE!! Two-for-One drinks before 10PM.
WHERE: Coney Island High. 15 St. Mark's Place, between 2nd and 3rd Avenues (very close to the Puck building). Phone number is 212-674-7950. Website is www.coneyhigh.com.
WHEN: Friday, August 8th, 8PM 'till 4AM. Bands start at 10:30.
WHY: It's something to do for FREE on a Friday night in Manhattan (how can you go wrong?), and it's a great way to kick off the conference.
HOW: By pulling together some cool bands (including Meal Ticket, a female-fronted California ska band), some great DJ's, excellent music, killer drink specials, 300+ crazy Beyond HOPE attendees, and not charging one dime at the door.
FOR MORE INFORMATION, contact Thee Joker <joker@2600.com>.
---

Friday, Saturday, Sunday:
Gotham Comedy Club

WHO: Headlining comedians: nationally known comics as seen on

Sue Costello - Aspen Comedy Festival - Girls Night Out
Rod Reyes - HBO - Comedy Central
Jeff Ross - Letterman, Hbo, Comedy Central, Tompkins Square
Wally Collins - Letterman


WHAT: A comedy club in Chelsea. NO COVER CHARGE!! All ages, two drink minimum per person. Free admission if you mention BEYOND HOPE to the hostess at when you're seated (normally $12.00).

WHERE: Gotham Comedy Club
34 West 22nd Street
between 5th and 6th avenue
212.367.9000
www.citysearch.com/nyc/gothamcomedy

WHEN: Friday and Saturday 9PM and 11:30, Sunday at 8:30
Reservations strongly suggested - call 212.367.9000
Please arrive at least one half hour before show time to confirm your reservation, as this club tends to overbook on weekends.
---
Saturday & Sunday:
Concerts at The Wetlands
WHO: The Wetlands management (they rock) gave us a cool 20% discount on all their shows.
WHERE: The Wetlands
161 Hudson Street
New York, NY 10013
3 blocks south of Canal Street
Just NYC side of Holland Tunnel
(212) 966-4225
WHAT:
Saturday:
The Machine CD release party. After years of fan requests, the Machine has finally put together a recording of a live performance. Recorded live at the Wetlands in New York City on Thanksgiving weekend 1996, this show combines Pink Floyd classics with songs the Floyd haven't played live in twenty years. This compact disk was digitally recorded, mixed and mastered for crystal-clear sound. The performance includes several great jams in the tradition of vintage Floyd and the Machine live-show experience. This disc is a must for all fans of the Machine and Pink Floyd.
9pm - $8.00
Sunday:
Moon Ska's SKA-MART! featuring:
Meal Ticket, Planet Smashers, Edna's Goldfish, Adjusters, Komgo Shock, Rudie Brass, Pro-Midget Mafia, Executives, Jiker, and Taxicab Samurias.
3pm - til' it ends - Only $4.00

FOR MORE INFORMATION, contact Netweasel < ryan@nac.net>.
---
Saturday Night:
The Beyond HOPE Rave
WHO: NYEX (telephone 212-330-8909) and d8p (212-645-4883), with the cooperation of 2600.
WHAT: An awesome rave, with seven DJ's spinning a wide mix of music. 21 to drink. Admission is $15/$20 (advance/door), only with your Beyond HOPE pass!
WHERE: Octagon, 555 West 33rd Street, between 10th and 11th Avenues.
WHEN: Doors open at 10PM.
WHY: It's a great way to spend a Saturday night, and it would be a shame to come to New York City and not experience a rave here!
HOW: By putting tina303 (vienna/petra records/mayday), bizz o.d. (nyc/temple records/force inc.), carlos tera (nyc/sonic groove), john selway (nyc/serotonin records), reade truth (nyc/truthink/sonic groove), spd-1 (nyc/nyex), and stroboscopic (nyc/undercover/music group) together in one club.
FOR MORE INFORMATION, contact Robin < robin@2600.com&gt.
---
Saturday Night:
The Rocky Horror Picture Show
WHO: The NYC RHPS cast and The Village East Cinema.
WHAT: What is the Rocky Horror Picture Show? Good question. It's a movie. There's music. It's live theater. It's audience interaction. But most importantly, it's a HELL of a party. Plus Beyond Hoper's get in for only $5.50!! (instead of $8.75).
WHERE: Village East cinemas on 12th str. and 2nd Ave.
(212) 529-6998.
WHEN: 12:midnight, You should show up at 11:30 to guarentee a ticket.
WHY: How can you come to NYC and not go to the Rocky Horror Picture Show and experience New York's comedic and kinky side. Plus if your underage...Bingo!! SO come and give yourself over to Absoulte Pleasure.
FOR MORE INFORMATION, contact Netweasel <ryan@nac.net>.


---